TPUBsum

99.03.09 ( d14

To Ted Nelson Home Page
This is the Transpublishing Main page.


TRANSPUBLISHING:
A SIMPLE CONCEPT


Transpublishing is an alternative approach to copyright which has some remarkable properties: especially, allowing copyrighted contents to be included in new on-line documents, by someone else, without negotiation. It keeps connections to the original, and has other benefits.

An author may legally use this system to quote from other Web pages on a new Web page, without contact the owner, without paying, and without violating copyright.

It works like this: The materials appear on the Web page, but the transquoter does not deliver the materials at all, even though they look that way on the resulting page. There are several good reasons for this. One is that it avoids the copyright problem-- because the republisher has not made or sent a copy.

SO EACH TRANSQUOTATION COMES, IN EFFECT, FROM THE ORIGINAL PUBLISHER; THE ORIGINAL PUBLISHER SUPPLIES THE QUOTATION TO EACH USER.

The rest is details. Like the idea of flying, the idea is very simple. However, to go from the idea of flying to actually building and flying airplanes involves many details and complexities that most of us do not need to know.

In the same way, transpublishing involves details and complexities that most of us do not need to know. But if you want them, click here.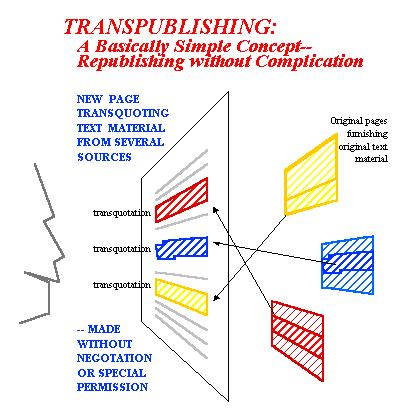 EXAMPLES!
Here are some real transquotations, coming from other pages by permission of their owners.
One of my students wrote a delightful humorous essay; and here is a transquotation from it:

... I believe that just as extreme intelligence is a gift, so is extreme stupidity.

(The first special quote-mark goes to the original context; the second special quote-mark goes to ghe copyright permission statement.)
Another of my students did a very interesting self-portrait.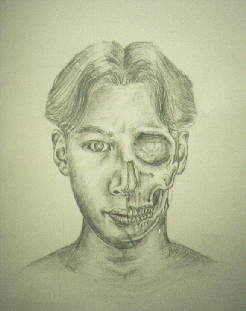 (The "transcopyright" mark next to the picture leads to his permission page.)
WHY SHOULD WE DO THIS?
THE BENEFITS
MORE BENEFITS
---

Now you may want to look at--
---
This has been the Transpublishing Main page. .