HTsum99 .html

99.01.24 ( d3

To Ted Nelson Home Page
To "Information Media" main page

Summary of Hypertext Issues
---

IM students:
If you understand this first short section, you may get an A for the course.

TEXT is the REPRESENTATION OF IDEAS.

The difficulty of writing is how BEST TO REPRESENT ideas (what leave out?) and PRESENT THEM (what emphasize, what say first?

HYPERTEXT is GENERALIZED WRITING -- "the manifest destiny of literature".

And note that when I say hypertext, I DON'T MEAN HTML! I mean REAL hypertext, with
transclusion
parallel version display
version management
hyper-sharing
2-way links, which anyone may add
many link types
permanent publishing (no "404 not found")
multiple copies around the world
freedom to republish via transpublication.
---
HYPERTEXT IS NOT 'TECHNOLOGY'
Hypertext-- not Tech but Lit

---
Politics of standardization
Today's electronic media, especially hypertext, are about the politics of standardization. But that's true of all software--


In fact, this has always been true of all technology: ALL TECHNOLOGY has ALWAYS been about the politics of standardization.
For instance, railroads. When railroads were getting started in the early 19th Century, a brilliant engineer named Brunel thought thought that the tracks should be very wide. If the railroad tracks were very wide, he said, the trains could go much faster and would be much safer.

Unfortunately, Brunel lost in the standardization war. According to one story I've heard, the competitors came to Brunel's camp the day before a government inspection and got his men drunk. The inspectors got a bad impression and ruled against him, and railroads were made much narrower. This was actually a loss for all of us, since we might have much better railroads today if that had not happened.
But where did the chosen track distance come from? Some sources say that the origin of the standard distance between railroad tracks came from ancient Rome-- that it was the width of the standard Roman chariots of 2000 years ago.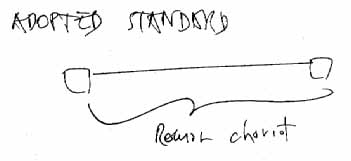 Why? Well, according to the story, the Roman chariot wheels made grooves in the roads that the Romans built all over Europe. And so for centuries afterward, it was much more practical to make carts and other rolling objects the same width, so that they would fit in the grooves.
That meant that all standard parts, especially the axles on which wheels were mounted, were that same width left over from ancient Rome.
And why did the Romans choose that width? Because it was the width necessary for two horses. And supposedly the Romans chose to drive on the right side of the road so that the whip carried by a chariot-driver-- in his right hand-- would not swing into the eyes of chariot-drivers coming the other way.
These are lessons about standardization:
• Standards were probably made for reasons that have nothing to do with the present situation.
• If you win or lose in the standardization was, you may win or lose big.
• Standards tend to last a very long time.
• Improving the standards can be very difficult.
---
THE POLITICS OF STANDARDIZATION
IN THE SOFTWARE INDUSTRY
The situation is the same as with railroad tracks, except much more complicated. With railroads, everybody thought they were doing the same thing with the same purpose. With software, the purposes and the philosophies can be completely different.
However, the story is still the same: winners get the standards made, losers don't.
Bill Gates knew this from the beginning, and so business maneuvering to standardize Microsoft software has been much more important that what the software did, or whether it was any good.
---
BEYOND PAPER
We need SOMETHING BETTER THAN PAPER--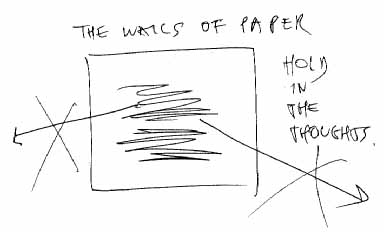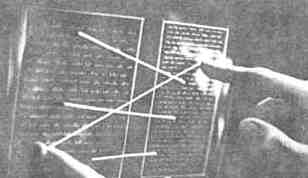 The basic problem of hypertext is: WHAT LIES BEYOND PAPER? Paper was created two thousand years ago and shows only the connections that can be pictured, or spoken of, within its four walls.
"Paper" shown on a computer screen is just an imaginary simulation of an imaginary structure. Any other imaginary structure could be possible. With all that possibility, why imitate paper? (That's like creating a car that walks on two legs, or taking the wings off an airplane and using it as a bus.)
Paper on a screen could be an ENDLESS SHEET.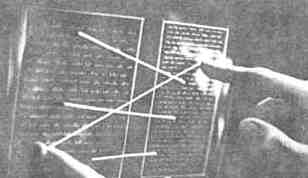 It could have bridges, tunnels, flaps and holes.
[ipcress here]

[PIC]
---
The Xanadu® Model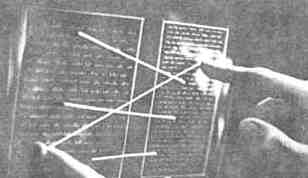 There have been many Xanadu systems designed in the Xanadu project over the years. Xanadu systems have always had the following in common:
1. The intention of standardizing a form of literary structure.

Same structure for
VERSION MANAGEMENT
PUBLISHING

2. Intercomparison side-by-side on screens that would show--



3. A world-wide publishing system where anyone could publish anything, with these connections shown on screens.
The Xanadu® Model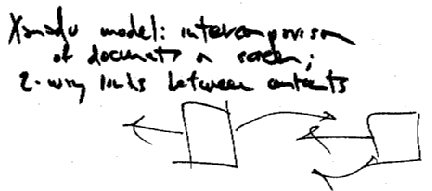 - - - - - - - - - -
---
1-WAY HYPERTEXT
1-Way Links (HyperCard and the Web)
Software for one-way hypertext is much easier to create. The links can be stored as part of the unit ("card" or "page"), and an author can change the text or the links at the same time.
Furthermore, the programmers do not have to keep track of links arriving from other places (as in two-way links, below).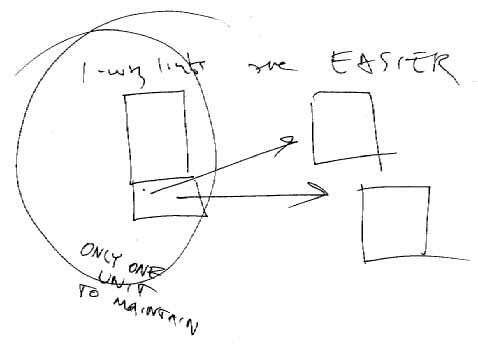 (People who are in a hurry to do something, and don't care if they do it right-- Geeks-- do it the easier way.)
The first popular hypertext system-- HyperCard™ from Apple, created by Bill Atkinson and introduced around 1986-- had only 1-way links.
That made it comparatively easy to build.

When Tim Berners-Lee created the World Wide Web in 1992, it was built on the HyperCard model of one-way links, which much easier to manage-- but far less useful.

---
2-WAY HYPERTEXT
2-Way Links-- More Difficult, Political
Two-way hypertext is more difficult to create. If the links go in both directions,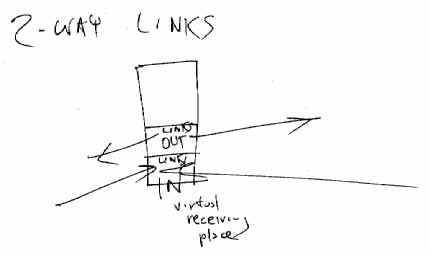 - - - - - - - - - -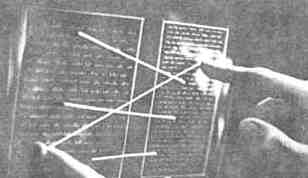 ---
RE-USE

There is no way to re-use materials on the Web, except vaguely and in small quantities.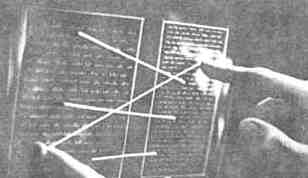 INTERCOMPARISON

Intercomparison is one of the most fundamental and vital activities of the human mind. Looking at things side by side, and seeing which parts are the same and which parts are different, and which parts have some kind of link between them, is fundamental. Let's call this PARALLEL PRESENTATION. And if items are in different order in parallel units, showing these connections is CROSS-PARALLEL.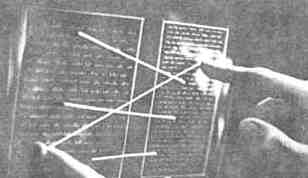 Unfortunately, we only have a few software mechanisms for intercomparison.

For instance, tables and spreadsheets allow things to be intercompared (especially as columns).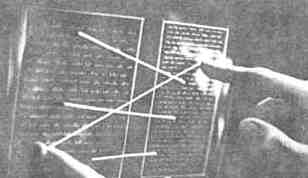 Looking over your accounts with banks and other companies, and checking their records of transactions against yours, is called RECONCILIATION. This is possible in some software packages, like Quicken (for finances).
But these mechanisms are NOT GENERAL ENOUGH. It's only for items inside particular software packages.

---
PARALLEL CONNECTIONS IN GENERAL
Parallel connections should work outside software packages-- on all units.
For instance, versions of documents.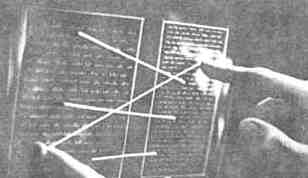 For instance, lists of files backed up in other directories.
As I've said elsewhere, I believe documents are intrinsically parallel, meaning that many documents normally consist of several parallel versions.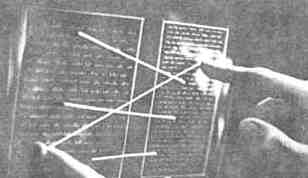 These diagrams are rather like the relations of files to directories. Let me generalize this and say that these represent connections in a discrete connection dimension.
Discrete connection dimensions are common, but not recognized as such. Here are some examples:
Spreadsheets and tables (two connection dimensions)


Hierarchical directories (one connection dimension, actually)

This leads to an insight about ZigZag(tm). The ZigZag system consists of ONLY discrete connection dimensions.

---
ITEM SYSTEMS
Most software deals with text as a kind of fluid, or a granular substance like grains of rice. But generally text also contains ITEMS, units that are significant.
Many other kinds of software deal with items (for instance, banking). But dealing with free text as items is considered to be the opposite of ordinary text work.
OUTLINE PROCESSORS deal with text items

PDAs usually deal with text items.
An item-oriented text system would save every item in chronological order, but also allow you to rearrange them.

ZigZag is an item system.

---
TRANSCLUSION
Best definition of transclusion for today:
THE SAME THING WHICH YOU KNOW TO BE IN TWO PLACES.
Not a copy.

HYPER-SHARING:
TO BE ABLE TO SEE IDENTICAL THINGS IN THEIR DIFFERENT CONTEXTS FOR INTERCOMPARISON
Bible: "In the Beginning ..." Apollo 11 video: "In the Beginning ..."
I BELIEVE TRANSCLUSION IS A FUNDAMENTAL ABSTRACT RELATIONSHIP FOR ALL DOCUMENTS AND MEDIA. The computer makes it possible to SEE transclusion, at last.

Many other relationships have been groping toward transclusion and hyper-sharing:
Copies
Instances (in OOP)
Inheritance (in OOP)
Cross-indexing
Cross-filing
Cross-mentioning
Citation

.